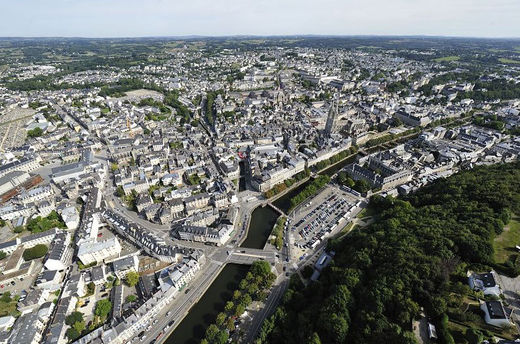 Vue aérienne du centre-ville de Quimper
Culture, community life, leisure, environment... the Quimper urban area is an appealing active centre. At 15km from the Atlantic coast, opposite the Americas, Quimper is a town resolutely open to the world.
Administrative capital of Finistère, capital of Cornouaille, the influence of Quimper extends well beyond its status of medium-sized town (63,929 inhabitants).

This huge territory located in south Finistère on the Odet estuary encompasses historic and economic Cornouaille, and is distinguished by its lively and innovative character.
County : Brittany
Département : Finistère
Administrative status : Administrative capital
Regional area : Cornouaille
Intermunicipal name : Quimper Community
Council code: 29232
Postal code: 29000
Current mayor (since 2008) : Bernard Poignant (Socialist party)

Breton name : Kemper
Historic region : Cornouaille
Traditional region : Glazik
Motto : «unanet e vimp kreñv» (United we will be strong).

Total population : 63929 (2008)
Population density :761 hab/km² (2008)
Inhabitant's name : Quimpérois(e)

Surface area : 84 km²
Sunny hours/per year : 1634
Rainy days/per year : 154
Average minimum temperature : 8,1°C
Average maximum temperature : 15°C