Ourense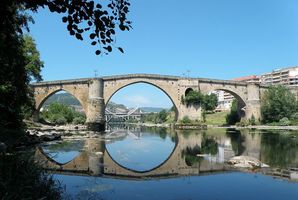 Vue d'OurenseWith 108,000 inhabitants, Ourense is the third Galician town by population and the county town of Galicia.
Ourense is the birthplace of Galician culture. The museum contains numerous tools from the Palaeolithique age, witness of an large archaeological wealth. The Romans who built the city left behind numerous traces such as the Vella bridge which spans Mino river. It was during the Middle Ages that the town developed massively, as shown by the magnificent San Martin cathedral.
Agriculture and vineyard-based, it's also a service-industry town located in the « San Ciprian economic polygon ».
Ourense has thermal springs  and open air resorts such as the famous « Burgas » springs in the town centre.
Exchanges take place between Breton and Galician secondary schools. Derived from the language apéritifs organised by the Ergué-Armel Community Centre, the « salud…y palabras » meetings proposed by the twinning committee are an opportunity  to exchange in Spanish around a few tapas.
Economic exchanges have also taken place through the signature of a partnership between the Ourense and Géant-Cornouaille shopping centres. This initiative promotes the hosting of business or business-related studies students on work experience.